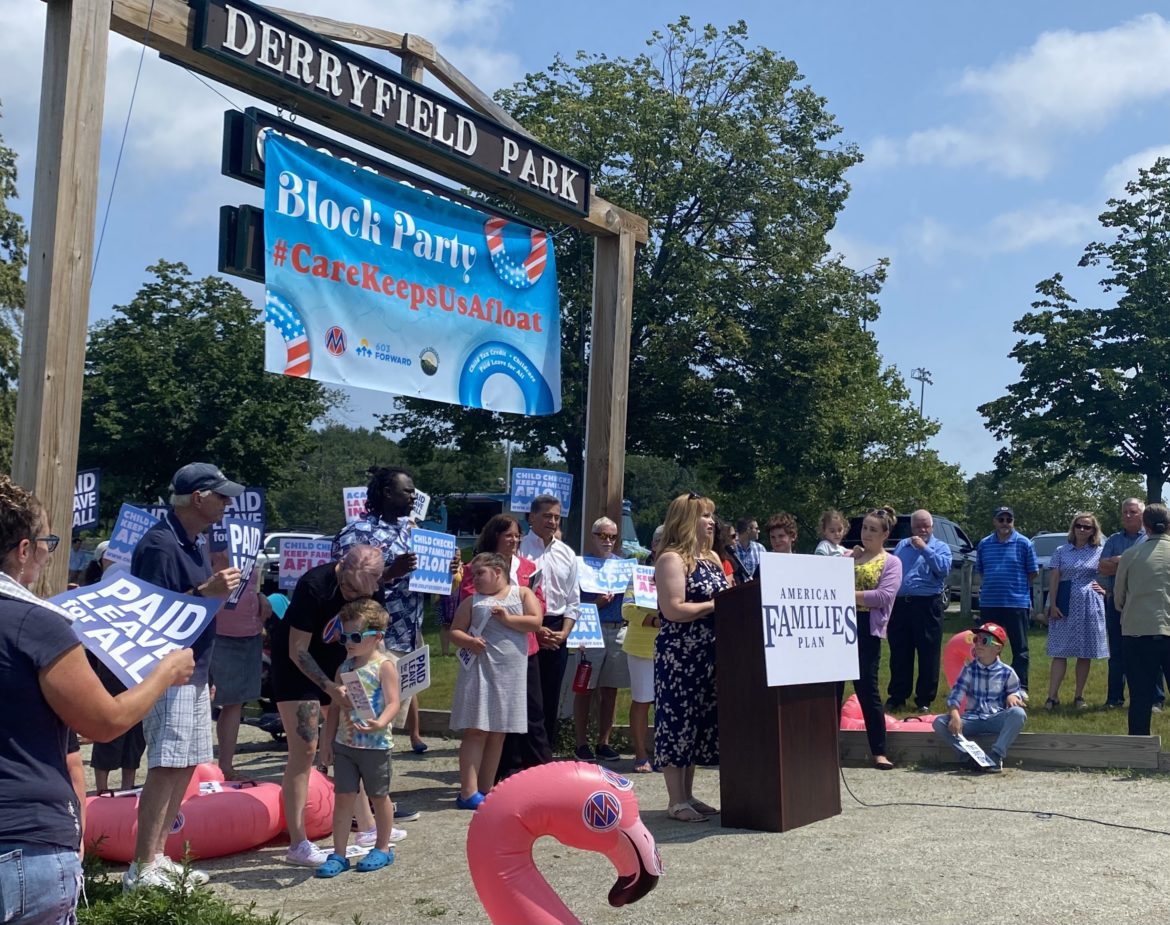 NH Moms Share Pandemic Impact, Celebrate Child Tax Credit Payments
By SARA PERSECHINO, InDepthNH.org
"We are here. Checks are in the mail. The money is in bank accounts. And New Hampshire families need support," Congresswoman Ann McLane Kuster said at a recent block party. Care Keeps Us Afloat in Manchester, organized by MomsRising, regarding Child Tax Credit (CTC) payments.
The event took place on July 15, the day families began receiving the expanded CTC payments recently passed in the US bailout. The tax credit will provide monthly checks of up to $ 300 per child for approximately 130,000 New Hampshire families; it is available for single-parent families earning up to $ 112,500 per year and for two-parent families earning up to $ 150,000 per year.
The Secretary of Health and Social Services, Xavier Becerra, also spoke at the event.
"Guess what? They're not going to invest it in some boondoggle in another country. They are going to use it to buy clothes for these kids, make sure these kids have good food on the table, or fix the roof. leaking again, "Becerra said.
Erin Rose is a Manchester mom who had to quit a dream job during the pandemic to care for her two children, who are now six and 18 months old, with her youngest born just months before the pandemic. The CTC's monthly payments will help her pay more for the daycare so that she can work more hours.
"I was working in a place that I had really worked hard to get into. I was really sad but in September I had to quit my job mainly because of [coronavirus] and schools being closed, "said Rose, who explained that she used paid family and medical leave at the start of the pandemic and worked for three months before quitting her job and filing for unemployment.
The loss of the Federal Pandemic Unemployment Benefit, which gave the unemployed an additional $ 300 each month, when Governor Sununu ordered the state to quit the program had an impact on Rose's family.
"That's not why people don't go back to work – there's no daycare," Rose said.
Now, Rose works in the retail business part-time at night, after her husband returns from his full-time job. They meet his planning needs, and that gives them a little extra money for bills or savings. The CTC payments will allow her to have more childcare expenses so that she can work more.
Liz Grady is a mom of four – with another baby on the way. She lives in New Hampton with her husband, who works in waste management.
"My husband, by the grace of God, was still employed, but he hardly worked [forty hours]"Grady said.
Her husband did not have overtime, which they had used in the past to save money and cover unforeseen expenses that arose. In addition, all four children were at home, three of whom were in second year middle school distance learning.
"Having the extra expense of electricity because of all the Chromebooks running… and our grocery bill and our four kids at home 24 hours a day was definitely another hit," Grady explained.
For Grady's family, the child tax credit payments will help pay off credit cards and pay off bills they've been waiting to catch up on. She said whatever was left would replenish their savings, in the event of a future emergency.
Carrie Duran also spoke at the Care Keeps Us Afloat event in Manchester. She is a single mother of three, including her daughter Katie, born with Down syndrome, who was at the event with her. Duran said she received her CTC payment that day and that with her birthday in August, she would use it to have her car inspected and keep it running safely.
"With working part-time and being a single mother of three, it's been pretty tight. We struggled quite a bit financially, but with a little love and a lot of coffee for mom, we were able to get by. We missed it, "said Duran.
But that changed when she also had to start caring for her father, who was diagnosed with Alzheimer's disease, and she became part of what is called the "sandwich generation".
Duran told the crowd, "That little level of squeaking became the fact that we were drowning. What would have helped me, my children, my family, were paid family and medical leave. "
According to Christina D'Allesandro, senior campaign manager at MomsRising, her organization is working alongside elected officials and communities to push for policies such as a permanent extension of the child tax credit, as well as paid time off for children. all families and sustained long-term funding. for childcare.
"A robust health care infrastructure is essential to our families and our future, and will raise families, boost the economy, enable parents to work, and create good jobs across the country and especially here in New Hampshire," D'Allesandro said.