Paterno Fellow advocates for sustainable and accessible menstrual health products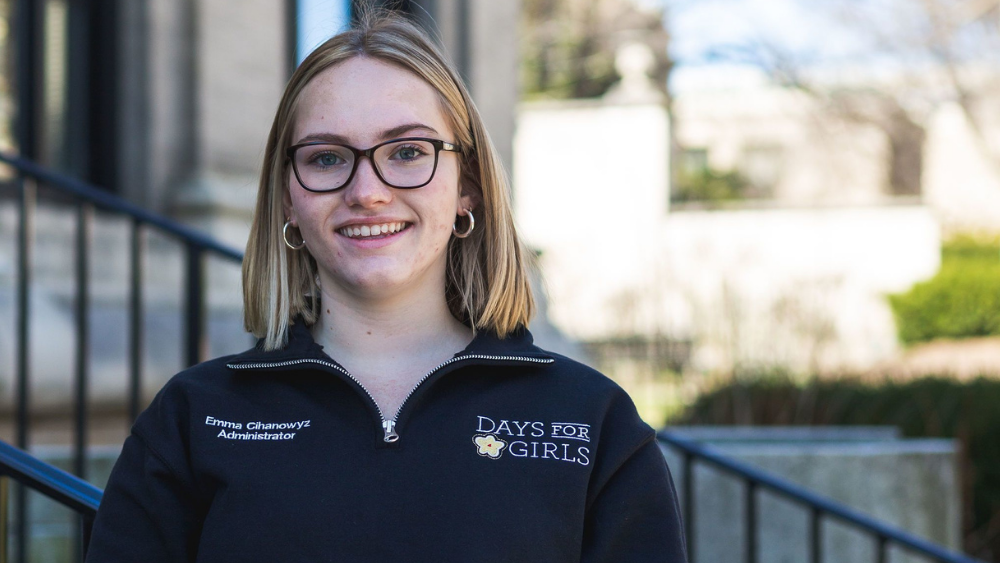 UNIVERSITY PARK, Pa. – Emma Cihanowyz likes to have her "eggs in several baskets but go all out." A quick glance at her resume shows how obvious this is.
Cihanowyz is a Junior Double Major in International Politics and French and a Triple Minor in Spanish, Women's Studies, and Global and International Studies. She spends most of her time outside of the classroom and focuses on being the vice president of advocacy for Days for Girls at Penn State, an organization that works to end menstrual poverty. – lack of access to menstrual products and essential items needed for menstrual care – around the world.
Cihanowyz, originally from Montoursville, Pa., Is also a Paterno Fellow and Schreyer Scholar.
"Being a Paterno Fellow and taking honorary courses is definitely engaging and stimulating," Cihanowyz said. "I find it really interesting to deepen my lessons. Honor classes are also often smaller, so they are more discussion-based. I would say that the classes definitely enriched my education tremendously.
"The College of Liberal Arts has also provided me with many unique opportunities. Working with Liberal Arts Career Enrichment Network Career Coaches and Educational Consultants has been amazing. All the resources available to the College of Liberal Arts are really great and I have found some great tools as a student.
Since her first semester at college, Cihanowyz has been an active member of Days for Girls at Penn State, which is a chapter of the largest nonprofit International Days for Girls. The Chapter has been recognized as the Student Organization for the Fall 2020 Semester at Penn State, an award presented by the Office of Student Activities.
The organization creates reusable menstrual health kits, organizes fundraisers, and runs awareness programs. The Penn State Chapter is set up to support these three initiatives.
Cihanowyz oversees the advocacy team at Days for Girls at Penn State.
"What our advocacy team looks like is exactly what the name is, really advocating in our local community and ensuring that the community's needs are met and that menstrual products are accessible to everyone. on campus and state college, "Cihanowyz said.
Cihanowyz explained that in the first year of establishing the club, members focused on making the bags for the menstrual kits and intended to move on to creating liners, but due to the pandemic, members could no longer sew in person.
"We are currently back to teaching everyone how to sew bags, but hopefully we will move on to liners soon," Cihanowyz explained. "We're giving our bags to a bigger team doing a full kit in Philadelphia, and they're really great. They make the rest of the kit and distribute it wherever they need to go.
Kits last for five years and contain reusable liners, panty liners and personal care products.