The Ministry of Health receives a 40ft container of medical equipment –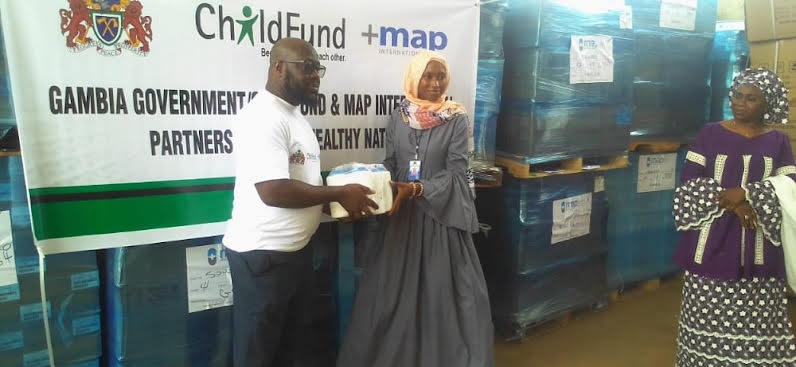 By Adama Jallow
The Ministry of Health through the Pharmaceutical Services on Monday received a 40ft container of medical equipment and pharmaceutical items from ChildFund International Gambia through its donors MAP International for further distribution to health facilities across the country.
Medical items are intended for the promotion and well-being of children and the vulnerable population. Items include antibiotics and painkillers, among others.
The gesture came through ChildFund Gambia's collaboration with MAP International which has been in existence since 2012.
Speaking at the ceremony held at the Central Medical Store in Kotu, ChieldFund Human Resources Administration and Support Specialist Omar Gassama revealed that the gesture was not the first time that ChildFund will work with MAP international to deliver pharmaceuticals to CMS, which it hopes to continue.
He pointed out that the delivery of the medical items was also aimed at complementing the government's efforts to provide essential materials to the Gambian people to strengthen the medical sector and alleviate the suffering of the people.
He revealed that therefore the government cannot do it alone, that is why ChildFund and MAP International are stepping in to support this venture, which is a pathway to fulfill ChildFund's cooperation and social responsibility by providing medical equipment to Gambians.
Fatou L Samateh, deputy director of pharmaceutical services at the Ministry of Health, described ChildFund as their ideal partner, complemented them for their considerations and said that whenever ChildFund had items to donate, they always consulted the Ministry of Health. Health.
She congratulated them for the hard work, dedication as well as the trust they place in the Ministry of Health, while hoping for a lasting and very fruitful collaboration in the system in the future.
Alhagie Yahya Mbye, Head of Logistics and General Services at ChildFund, said their policy is to ensure that any ChildFund donation to the ministry or any department would be of the choice of the recipients and with the right amount, with the fact that they do not want to use The Gambia as a dumping ground, but of its needs.


Post views:
59